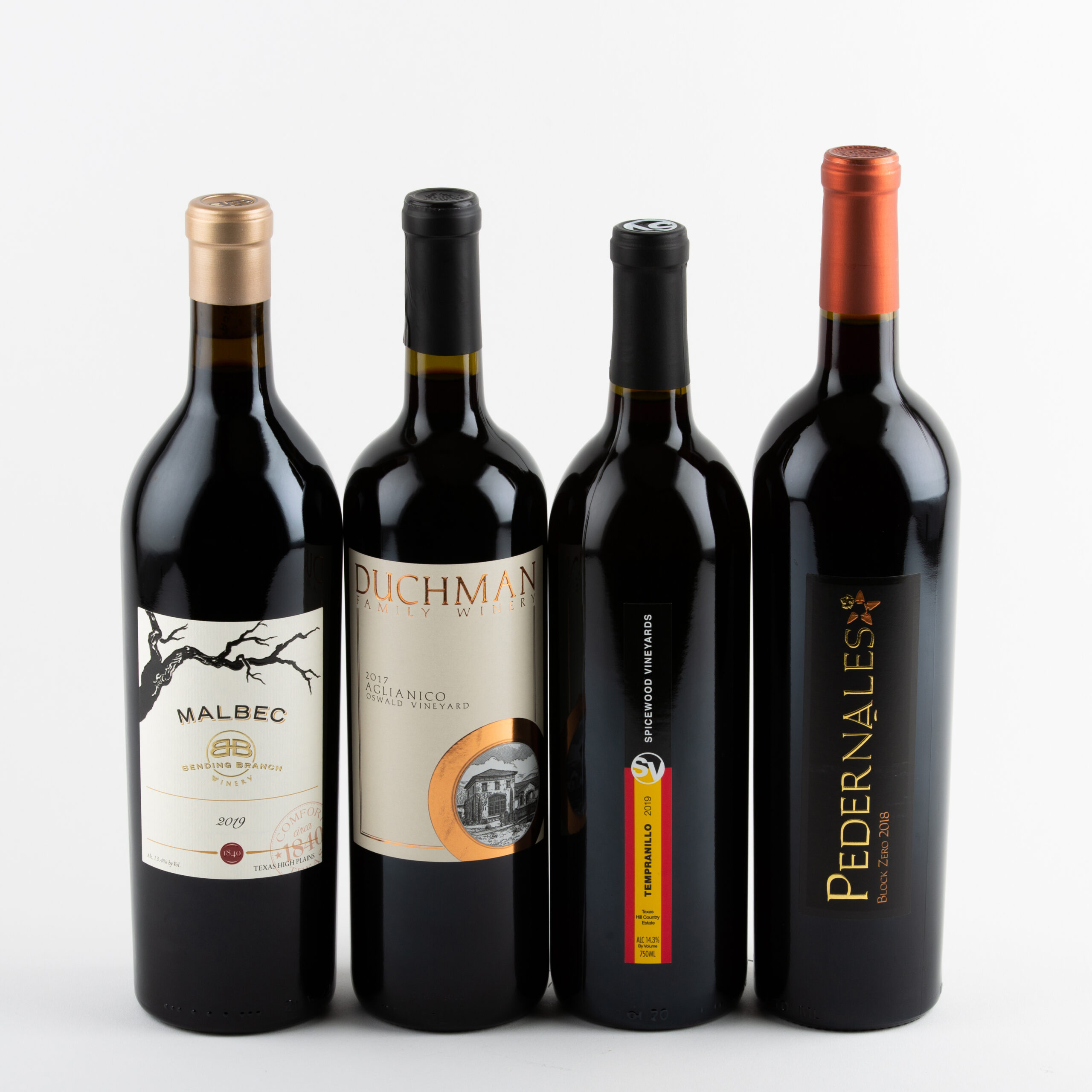 Join Texas Fine Wine Talk and Tastes on Oct. 13 and Dec. 8
HILL COUNTRY (Sept. 30, 2022) – Texas Fine Wine — which includes Bending Branch Winery, Duchman Family Winery, Pedernales Cellars and Spicewood Vineyards – announces new wine releases to kick off Texas Wine Month and celebrate the holidays. For the third year in row, Texas Fine Wine will offer its four-bottle Holiday Wine Bundle, the only Texas wine gift pack that includes wines from four different wineries.
To celebrate Texas Wine Month, Texas Fine Wine will host a virtual tasting at 6 p.m. on Thursday, Oct. 13 to taste and talk about the following new wines, specifically comparing the differences between wines from Texas Hill Country AVA and Texas High Plains AVA fruit.
Bending Branch Winery 2019 Malbec, Texas High Plains
Duchman Family Winery 2017 Aglianico, Oswald Vineyards, Texas High Plains
Spicewood Vineyards 2019 Estate Tempranillo (red and yellow label), Texas Hill Country
Pedernales Cellars 2018 Block Zero, Texas Hill Country
"We are thrilled but also feel a bit of nostalgia in releasing the 2018 Block Zero since it will be the last time we will do so," said Julie Kuhlken, co-owner of Pedernales Cellars. "Block Zero was the original vineyard planted by our parents in 1995. As part of our current project of replanting, however, we decided not to replant that section of Kuhlken Vineyards."
"Our Aglianico spends three to four years in oak and one year in bottle before it's ready to go out and see the world," said Dave Reilly, Duchman Family Winery winemaker. "It's special to release our 'new' vintage after such a long wait."
"We are excited to offer our Texas Trio for Texas Wine Month, which includes the 2019 vintages of Texas Tannat, Texas Tempranillo and Texas Cabernet Sauvignon," said Jennifer McInnis, general manager of Bending Branch Winery. "The Cabernet Sauvignon is also part of the Texas Fine Wine holiday bundle, a perfect pairing for a prime rib roast."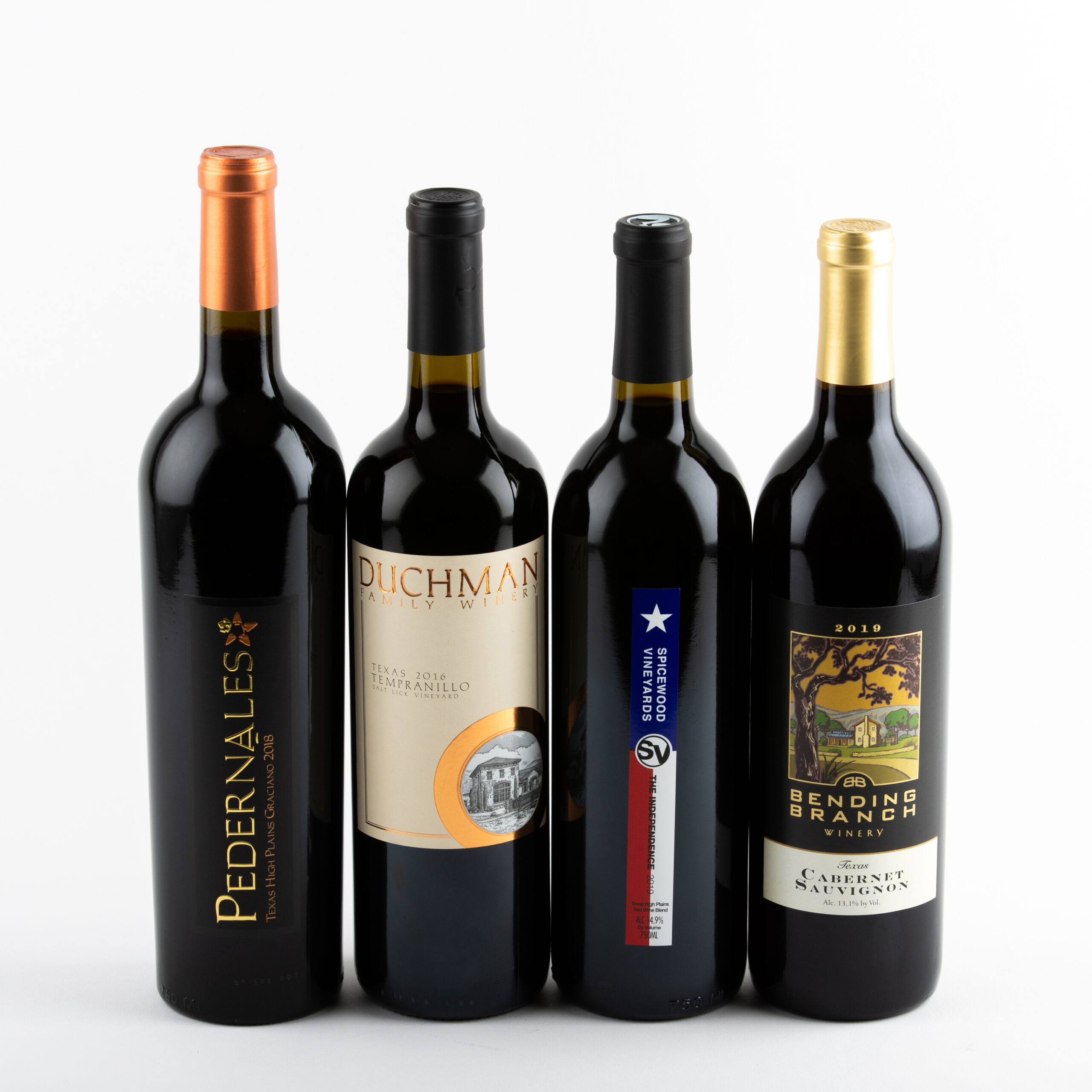 Texas Fine Wine Holiday Bundle
To celebrate the holidays, Texas Fine Wine will offer its annual Holiday Bundle, featuring an exceptional wine from each winery:
Pedernales Cellars 2018 Texas High Plains Graciano
Duchman Family Winery 2016 Tempranillo, Salt Lick Vineyard
Spicewood Vineyards 2019 Independence (Cabernet, Merlot and Petit Verdot)
Bending Branch Winery 2019 Texas Cabernet Sauvignon
"We added Petit Verdot to the 2019 Independence to offer a classic Left Bank Bordeaux blend for the holidays," said Ron Yates, owner of Spicewood Vineyards. "The Petit Verdot gives the wine more dark fruit notes along with beautiful color and structure."
The holiday pack is available for $135 (including shipping). Wine enthusiasts who purchase by November 9 will receive the bundle in time for Thanksgiving; orders placed by December 7 will arrive in time for Christmas. Go here to purchase.
Texas Fine Wine will review the holiday wines during its December 8 Talk and Taste virtual tasting at 6 p.m. Details here.
For more news and information about Texas Fine Wine, follow the group on Facebook and Instagram.
###
Texas Fine Wine is a group of four highly respected wineries making quality, benchmark wines from Texas grapes, including Bending Branch Winery in Comfort, Duchman Family Winery in Driftwood, Pedernales Cellars in Stonewall and Spicewood Vineyards in Spicewood.