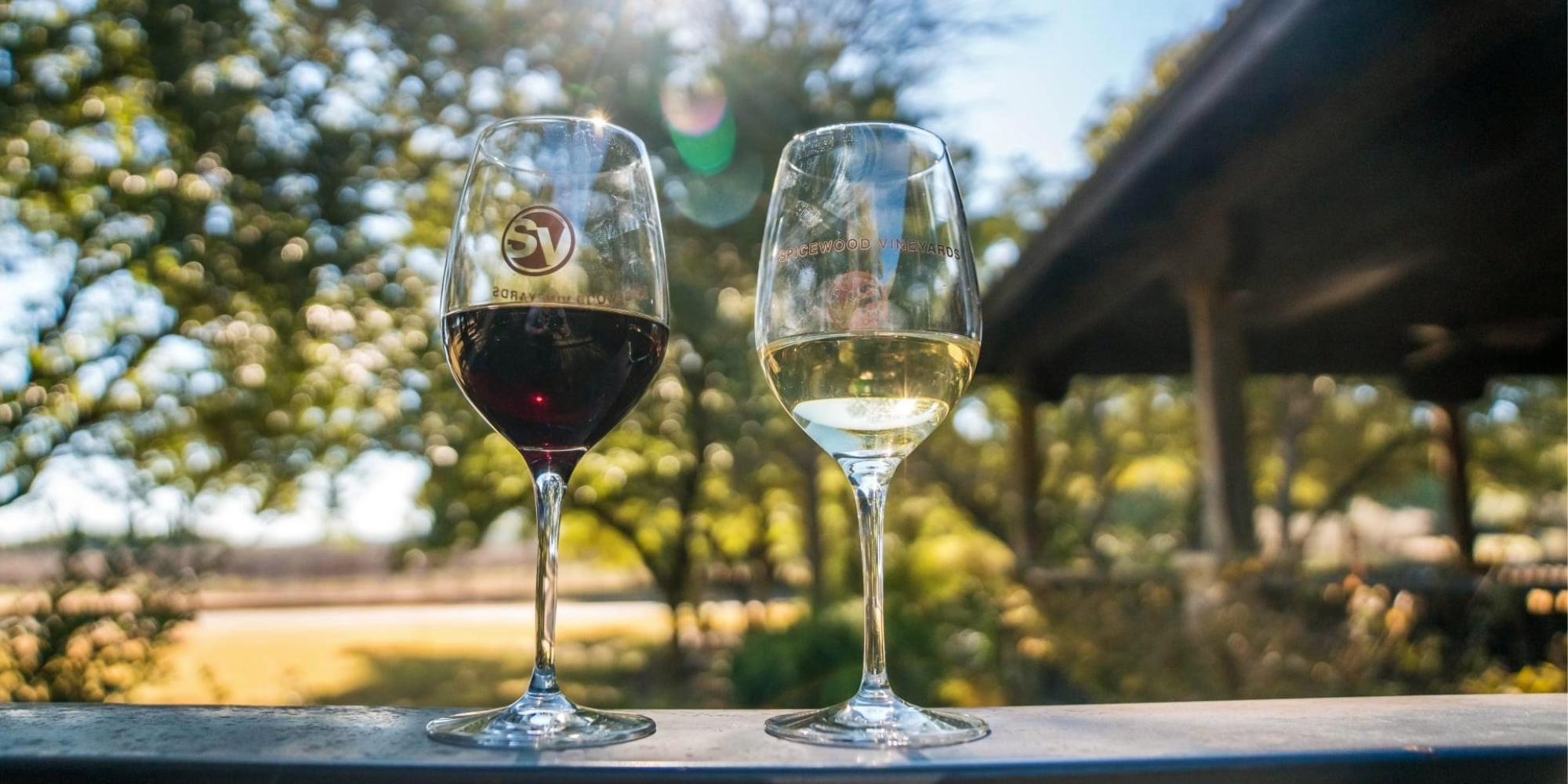 We get lots of questions from wine enthusiasts looking for
wineries near Austin
so thought we'd share a couple of our favorite half-day trips!
Both Duchman Family Winery and Spicewood Vineyards are about 30 to 45 minutes from Central Austin. Both are easy drives!
To get to Spicewood Vineyards, head down Mopac South to Southwest Parkway to Highway 71 and it's a straight shot into Spicewood. Reservations are not required, but best to do so if you are a party of 4 or more. Children and dogs are welcome.
To get to Duchman Family Winery, hop on Mopac South to 45 to 1826 past Salt Lick BBQ and then just a short way down Highway 150. Reservations are required for the 45-minutes Tasting Room Experience (Friday through Sunday), but no reservation is required to order a glass or bottle of wine. Children are welcome; dogs on leash are welcome on the outside lawn.
For both wineries, check their event calendars – you never know when Duchman will host a summer movie night or Spicewood will feature its popular Supper Club under the trees.
SPICEWOOD VINEYARDS
If you want to experience the quintessential Texas outing, let's talk Texas wine and Texas barbecue. On your way to Spicewood, stop into nearby Opie's BBQ and pick up some brisket, ribs and tater tot casserole. (Seriously, do not miss the tater tot casserole.)
Head over to Spicewood Vineyards where you'll be greeted by the winery dog(s) and a welcoming patio and deck, surrounded by beautiful oak trees. And of course, fabulous wine.
Known for its Sauvignon Blanc and Tempranillo, Spicewood also offers a sparkling Semillon, award-winning Syrah and fabulous blends including the Battle of Toro featuring Tempranillo and Touriga Nacional, and the beloved Good Guy – make sure to ask where the name 'Good Guy' comes from. If you prefer something with a hint of sweetness to go with your spicy BBQ, ask for the Spicewood Claret. A great combo!
If you're looking for a light snack, Spicewood offers a cheese board that perfectly pairs with a beautiful day in the vineyard.
DUCHMAN FAMILY WINERY
One of the few Texas wineries that has its own onsite chef, Duchman Family Winery offers deliciously prepared foods to pair with its wines. The house made pizzas and fries are to die for and you can't go wrong with the cheese and charcuterie board.
Now if you are destined for BBQ, stop by Salt Lick BBQ on the way and pick up some of your favorites – and the Duchman staff will help you find the perfect pairing. In fact, Duchman makes some of the Salt Lick Cellars wines!
Duchman offers primarily dry wines – from Roussanne and Trebbiano for whites and Montepulciano, Sangiovese and Aglianico for reds. The winery also offers its Canto Felice wines for those looking for a touch of sweetness.
Grab a bottle and head to one of the many picnic tables under the big oak trees or walk the winery hallway with views of the production facility and barrel room.
We look forward to seeing you soon!